Meet this Week's Featured Supplier: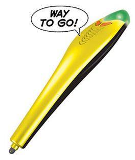 Who they Are:
Educators Resource (ER) is a family owned wholesale distributor since 1978. In 1993, ER became a national wholesale distributor servicing independent retailers, catalog distributors, and e-commerce retailers.

Product Line:
Educators Resource is the leading wholesale distributor of preK-8 learning materials & educational toys used by schools, teachers, parents & children. We provide value to our customers by providing "best-in-industry" order fulfillment services across a broad selection of products. The value of our services is determined by the accuracy, speed, & fill rate of our order processing, excellent customer service, & supply chain & operational efficiency.

Advice for Online Retailers:
E-Commerce has grown substantially in our industry & will continue to grow. We have several small business owners who compete with the giants in our industry online. As far as advice goes, staying ahead of the curve on building unique Meta Data and consistently educate yourself on search engine requirements.